UBIQUITI airMAX 5G16-120
The AM-5G16-120 AirMAX 5 GHz 2×2 MIMO Sector Antenna from Ubiquiti Networks provides networking flexibility and convenience by letting you create a customized base station with an optional RocketM radio. This antenna operates under the 5 GHz frequency and offers a gain of 16 dBi. It delivers 2×2 MIMO performance and supports airMAX technology, which uses a Time Division Multiple Access protocol to send and receive data at pre-designated time slots. Included along with the antenna are a pole mount, RocketM bracket, and weatherproof RF jumpers to make your base station building experience easier.
High Performance, Long Range
Seamlessly Integrates with Rocket M
Excellent Cross-Polarization Isolation
Intelligent QoS Priority is given to voice/video for seamless streaming.
Scalability High capacity and scalability.
Long Distance Capable of high-speed, carrier-class links.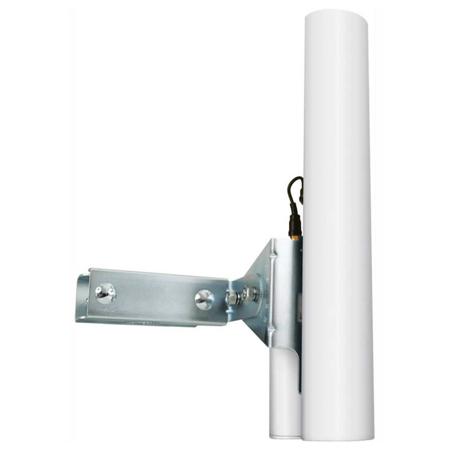 Utilize airMAX Technology(When airMAX Sector is paired with Rocket M):
Unlike standard Wi-Fi protocol, Ubiquiti's Time Division Multiple Access (TDMA) airMAX protocol allows each client to send and receive data using pre-designated time slots scheduled by an intelligent AP controller. This "time slot" method eliminates hidden node collisions and maximizes airtime efficiency. It provides many magnitudes of performance improvements in latency, throughput and scalability compared to all other outdoor systems in its class.
Breakthrough Design and Performance
The innovative airMAX Sector Antennas feature carrier-class construction and 2×2, dual-polarity performance.
Reduced Interference, Higher Gain
Highly resistant to noise interference, the airMAX Sector Antennas provide superior gain and beam performance for high-capacity, multipoint networks.
RF Isolation and Beamwidth Options
The versatile airMAX Titanium Sector models feature advanced RF isolation and adjustable beamwidth options: 60 deg. , 90 deg. or 120 deg.
Industrial-Strength Construction
airMAX Antennas are designed with robust mechanical design for outdoor application use.
Plug and Play Integration
Every airMAX Antenna has a built-in Rocket mount, so no tools are needed to install the Rocket BaseStation.